Affiliate Disclosure: We may earn commissions from purchases made through links in this post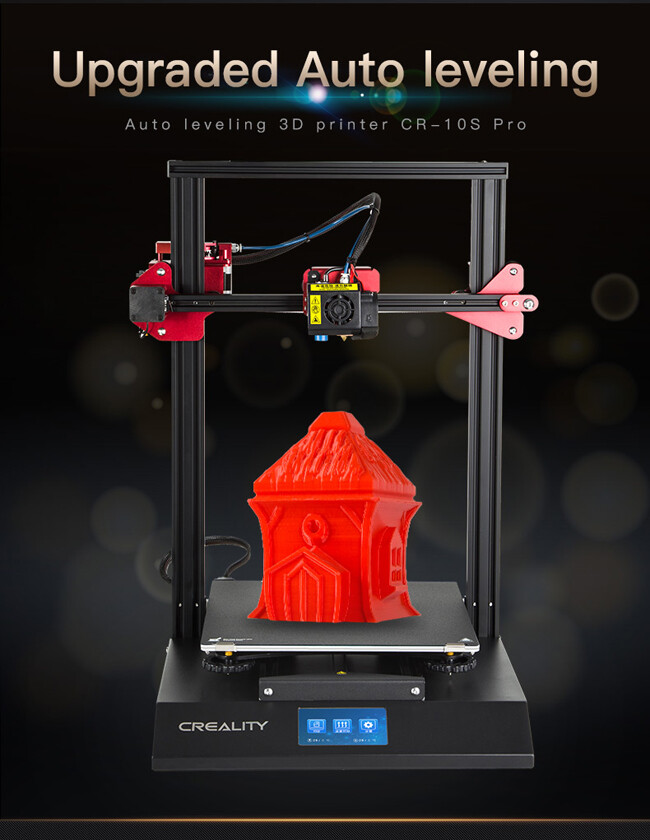 CR-10S Pro Auto Leveling 3D Printer LCD Touchscreen Self-assembly Resume Print
Description


Advantage:

Automatic matrix mesh leveling

CR-10S Pro features an inductive proximity sensor, to automatically detect the bed and assist in reading a matrix of points across the bed for bed leveling.Possibility of setting/adjusting Live Z Offset as you print
Upgraded V2.4.1 MOTHERBOARD

increase the stability and reliability of the printer's performance, also has TMC drivers which offers noiseless operation as well as eliminate salmon skin effects on the print results
Imported teflon tube

The CR-10S pro boasts Capricorn Teflon tubing – possibly the best option for smoother filament feeding. Due to its high lubricity and high-temperature resistance, it improves the printing quality and accuracy.
Bondtech Double Gear Extrusion Mechanism

The double gear extrusion mechanism has twice the grip on the filament to ensure reliable and smooth feed to the hot end.
Quick heating print bed

The heated bed can reach up to 110°C within 5 minutes
Branded power supply

Durable Mean Well power supply, a reputable brand that's known for the reliability and safety.
Dual Z-axis Screw Rods

Flexible good adhesive Print Surface for easy parts removal
Improved Filament sensor

Alert you when the filament has ran out or broken
Improved AUTO RESUME PRINT function

Resume Print, which stores the print information and position of the print head in case of power failure or similar

Integrated Touchscreen for a more intuitive user experience.




Package Include

CR-10S Pro:CR-10S Pro Kit

CR-10S Pro Auto Leveling 3D Printer LCD Touchscreen Self-assembly Resume Print